If you have a business or product, it's almost impossible to survive today's world without some form of digital presence.
It's more than just having a website. Your digital strategy needs to be in line with your company's overall mission, core values, and goals. That means you have to decide who your target audience is and how you want to draw them in.
Other things to consider include brand awareness and your competition. Look at what they're doing and it may give you an idea of how you need to proceed. For instance, does their website offer coupons? Do they sell their products online? Look at their presence and commit to making yours better.
After all, existing in a digital business world is often as competitive as being across the street from your competitor!
Your digital strategy, beyond just getting established on the internet, should also include social media since those websites account for a great portion of online traffic.
There's also advertising, email marketing and text marketing to consider, all services that ActiveData Mobile offers as part of digital marketing.
It doesn't stop there, though.
Digital presence beyond a website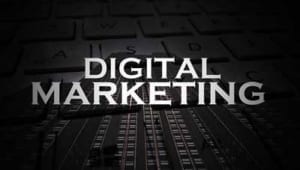 Digital presence is more than having a website or Facebook page. You have to make sure your business appears in as many places as possible online – and there are hundreds of listing sites where your business could show up. That means you have to make sure your information is as accurate as possible because search engines give weight to correct and updated information, which can help you get better play online.
SEO (Search Engine Optimization) is a key driver of this. The right keywords on your website will go a long way in improving your digital presence. Keywords should show on your website and in its content (blogs, etc.)
It's hard to explain the impact SEO has on a website, but to give an example, ActiveData Mobile has put in more than 5,000 hours of SEO work! So it's a very involved process and not as simple as adding a word here or there.
Keywords can also change over time, based on your business' mission. It's important to see what competitors or similar businesses are doing to adjust your keywords as needed.
Establishing and maintaining a digital presence probably seems overwhelming, but it doesn't have to be. It's important to be in control of your digital presence, which can and should (and will) bring in more revenue – as long as it's done right.
ActiveData Mobile is committed to our clients' digital strategy, so if this all sounds too complicated, we can help you develop the strategy and deliver by setting up your digital presence. Call us today at (239) 465-0310.