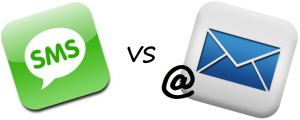 Both SMS Text and Email marketing are important tools in today's marketing mix. While both are valuable they serve different purposes, and it is important to know which tool to use for which type of information. With that knowledge, you can then decide who wins the SMS versus Email Marketing war!
The numbers can't be ignored for mobile with nearly 7 billion subscriptions worldwide; this is equivalent to 95.5% of the world's population. Many people have several subscriptions so that gives us 4.5 billion reported mobile users in the world (Ericsson, 2014). That's a lot of people with the capability to receive an SMS text message. Radicati Group projected there are just 2.5 billion email users worldwide in 2014 (Radicati, 2012). These figures illustrate the usage of SMS Text versus email marketing.
The popularity of email marketing meant that it very quickly became over populated with spam, thus reducing the chance that your email will be interpreted as a legitimate one and actually opened and read. SMS Text Marketing alternatively is 99% legitimate, with only 1% spam text messaging. This is due to the use of short codes and the added layer of accountability required by the carriers (AT&T, Verizon, Sprint, etc).
SMS text messages have a phenomenal open rate of 98%. No other marketing tool can offer a similar rate, making SMS Marketing one of the most effective ways to get your message to your customer. In contrast email marketing reports a 22% open rate, this significantly reduces your chance of success. Another great feature of SMS Text Marketing is that it is a Real-Time Delivery tool. Your SMS Text Message is delivered to recipients in minutes if not seconds of pushing the 'send' button and over 90% of messages are read with 4 minutes of deployment!
Consider the amount of time and effort put into each tool too. A text message can be crafted and sent in a matter of minutes, compare that to the amount of design and production time that goes into each email sent…
Business, groups, charities and sport clubs of all kinds are using SMS Text Marketing to deliver short sharp sales or information text messages to their relevant, opted in databases.
It is not that Email marketing doesn't work, but we are supporting the fact that SMS Text Marketing's has superiority over it! If you don't believe us, try it out! Send a text message to 100 customers and an email to 100 customers and see which gives you the most return!